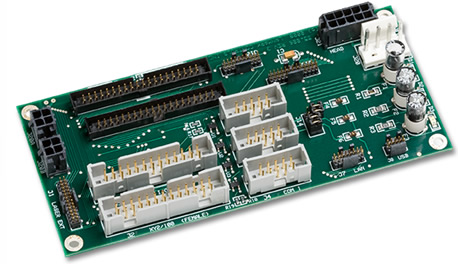 The OEM Interface Module is used to gain access to the signals available on the high-density connectors of the LEC-1 embedded controller board and allow integrators to expose connectivity to the inside of their systems by using standard DIN connectors. The OEM Interface Module has been designed to interconnect directly with the LEC-1 using standard ribbon cable assemblies included with the module.
On the OEM Interface Module, most control connections optically-isolated directly on the LEC-1 board are converted to single ended outputs and inputs. The OEM Interface module is available for OEM applications where connectivity internal to a controls cabinet is required.
The LEC-1 provides very flexible System I/O control capability for applications that require the LEC-1 to interact with other process control equipment.
Ethernet & USB
Ethernet
USB Port 0
USB Port 1
Serial I/O
Pendant Serial
Laser Serial Control
Diagnostics (Debug)
X Servo
Y Servo
Z Servo
Digital I/O 1
Status
User Digital I/O
Interlocks
Laser Digital Data
Laser Analog Power
Laser Control
Input Power
Input Power
X Servo Power
Y Servo Power
Electrical Requirements
+/- 15-24 VDC @ 300 mA
+5 volts is internally generated to supply LEC-1